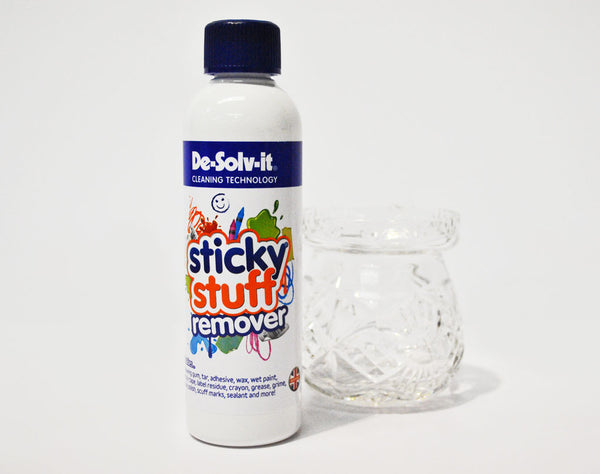 Sticky Stuff Remover 250ml
LAB/1860/STI
Behind the Counter
1
The original De‐Solv‐It® Sticky Stuff Remover liquid is a powerful solution to those sticky problems in store.  Great for removing price labels.  No retail store should be without it.
Sticky Stuff® Remover zaps even difficult deposits such as: tape, sticker residue, tar, grease, chewing gum, make-up, and adhesives from numerous surfaces including: glass, wood, metal, worktops, fabrics, tiles and much more.
Instructions for use
To remove sticky labels, chewing gum or adhesive residue from hard surfaces:
Always test on a small unobtrusive area before use.
Remove as much of the 'glossy' part of the label, adhesive residue or chewing gum as possible without damaging the surface.
Drip Sticky Stuff® Remover liberally onto a clean, dry cloth and apply to the affected area.
Leave the product on the surface for 5-7 minutes.
Gently scrape the residue off the surface using a non-scratch item.
Repeat if necessary.
Rinse the surface with warm soapy water.
To remove oil grease, tar, crayon and similar stains from washable fabrics.
Always test on a small unobtrusive area before use.
Blot off as much of the stain as possible using kitchen roll or similar
Apply the product sparingly onto both sides of the fabric and leave for 5 mins (10 mins for bad stains)
Blot the area with a dry absorbent material or kitchen roll.
Re-apply the product sparingly to both sides of the fabric and leave for one minute or so.
Wash the fabric in accordance with manufacturer's instructions adding slightly more detergent and wash at the highest temperature setting recommended for the fabric.
IMPORTANT Sticky Stuff® Remover is not recommended for use on silk, leather, suede, unsealed wood, polystyrene, or rubber/foam backed carpets.
Do not use near naked flames or on/close to very hot surfaces.